Ephesians 1:12-13, That we should be to the praise of his glory, who first trusted in Christ. In whom ye also trusted, after that ye heard the word of truth, the gospel of your salvation: in whom also after that ye believed, ye were sealed with that holy Spirit of promise."

There are many different plans of salvation being taught today. Whether it be in religious movies, religious tracts, televangelists, books or churches, there are counterfeit Gospels everywhere nowadays in these apostate times.

Albeit, the Word of God still stands accurate and true, proclaiming salvation in just one word: BELIEVE! Just believe! The way to be saved is to simply BELIEVE the Good News of Christ crucified on the cross, buried and bodily risen the third day.

Anytime we read a more difficult passage of Scripture, the correct way to interpret it is by referring to a more simper passage. For example: In Romans 10:9-11 we read, "That if thou shalt confess with thy mouth the Lord Jesus, and shalt believe in thine heart that God hath raised him from the dead, thou shalt be saved. For with the heart man believeth unto righteousness; and with the mouth confession is made unto salvation. For the scripture saith, Whosoever believeth on him shall not be ashamed."
I have heard various different plans of salvation, heresies, fabricated from a misunderstanding of Romans 10:9-11. Some preachers falsely say we must confess the name of Jesus publicly, or else we're not saved because we are ashamed of Him. Other preachers errantly teach that a person cannot be saved without praying, because confession is made with the mouth unto salvation. However, if we simply refer to the Gospel of John, the truth becomes self evident concerning how to be saved. We are saved when we just BELIEVE!

The Gospel of John is God's Gospel tract. That is the sole purpose for the writing of John, to convince us that Jesus is the only begotten Son of God, the Christ, and that by "BELIEVING" we are eternally saved. ...

John 3:16: "For God so loved the world, that he gave his only begotten Son, that whosoever believeth in him should not perish, but have everlasting life. For God sent not his Son into the world to condemn the world; but that the world through him might be saved."




John 5:40, "And ye will not come to me, that ye might have life."





John 6:28, "Then said they unto him, What shall we do, that we might work the works of God? Jesus answered and said unto them, This is the work of God, that ye believe on him whom he hath sent."





John 11:25, "Jesus said unto her, I am the resurrection, and the life: he that believeth in me, though he were dead, yet shall he live."





John 20:31, "But these are written, that ye might believe that Jesus is the Christ, the Son of God; and that believing ye might have life through his name."
In every religious tract or sermon that you read or hear, every word added beyond the word "BELIEVE" relating to the Gospel, obscures the truth. In the Gospel of John, the words "BELIEVE" and "BELIEVED" are mentioned 85 times. The word "BELIEVING" is mentioned 2 times. So 87 times we are taught to just BELIEVE to be saved. Yes, it is that simple. There is no mention of the word "repent," nor are we taught to "pray."
The Bible says that Jesus didn't baptize anyone with water, but His disciples did (John 4:2). Water baptism is a simply a believer's public profession of faith, but is not necessary to be saved. Getting baptized is a matter of discipleship, not sonship. It is no different than a wedding ring. The ring does not make a person married, it only symbolizes the marriage commitment. The Bible way to be born-again is to simply BELIEVE the Gospel. That is all that is required by God.

What exactly is the Gospel? The word "Gospel" means "Good News" or "Glad Tidings." There is no need to guess what the "Gospel" is because the Bible plainly tells us. The "Gospel" is the Good News of Christ's DEATH on the cross for our sins, His BURIAL and bodily RESURRECTION three days later:

1st Corinthians 15:1-4, "Moreover, brethren, I declare unto you the gospel which I preached unto you, which also ye have received, and wherein ye stand; By which also ye are saved, if ye keep in memory what I preached unto you, unless ye have believed in vain. For I delivered unto you first of all that which I also received, how that Christ died for our sins according to the scriptures; And that he was buried, and that he rose again the third day according to the scriptures."
In John chapter 19 we read about the crucifixion of Jesus and His burial. In John chapter 20 we read about His miraculous resurrection from the dead. We are saved by BELIEVING "the Gospel," which is the power of God unto salvation. Romans 1:16, "For I am not ashamed of the gospel of Christ: for it is the power of God unto salvation to every one that believeth; to the Jew first, and also to the Greek." John 6:28-29, "Then said they unto him, What shall we do, that we might work the works of God? Jesus answered and said unto them, This is the work of God, that ye believe on him whom he hath sent." It is that simple to be saved. If you admit that you are a needy sinner in God's sight, and you receive Christ's sacrifice on the cross as payment for your sins, believing that He was buried and bodily resurrected three days later, YOU ARE IMMEDIATELY, SECURELY AND FOREVER SAVED!!!

Anyone who receives Christ's sacrifice on the cross as payment for their sins, believing that Jesus was buried after He died, and physically raised up miraculously three days later, is saved. Salvation is not doing your best, it is having Christ's best put to your account through receiving Him by faith. Just BELIEVE!

"That payment that Christ made, He put it to your account... Do you realize the opportunity that God has given to us, to be able to 'GO INTO ALL THE WORLD.' And the thing that bothers people, is this thing about sin, because of the guilt that it brings, and all the wickedness that it brings; and you and I are the ONLY hope the people in this world—God has left us here and we are their only hope, if we don't explain the Gospel and make it clear!" —Pastor Ralph "Yankee" Arnold; a quote from his sermon, "A Study of Romans Chapter 10."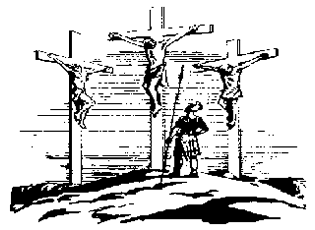 "God have mercy on a preacher that the world don't hate!"