Proverbs 10:14, "Wise men lay up knowledge: but the mouth of the foolish is near destruction."

A wise Christian doesn't wait until problems arise and then look for knowledge. A wise believer lays up knowledge in advance, so that they'll have it when they need it. But also, a godly believer lays up knowledge to help OTHERS, so that when you meet people who are having a rough time, you can help them in the Lord. I love listening to lots of preaching, and the King James Bible, so that I can lay up knowledge for myself and to help others.

By listening to preaching, you're laying up knowledge in advance. I've heard Dr. Jack Hyles (1926-2001) preach many sermons, where he says that the truth he's giving won't help the listener now, but some day they'll remember it and it will save their life or marriage. I have lived to prove Dr. Hyles' advice true! I never imagined during the eight years that I sat under Dr. Hyles' preaching at First Baptist Church of Hammond (1985-1993), that those truths would have a profound impact on my life decades later when my life fell apart, my wife divorced me in 2006, and it seemed that all hope was gone. I've since made it a regular habit to listen to as many of Brother Hyles' sermons as I can collect. I have literally thousands (2,526 so far) of MP3 sermons by Dr. Hyles. They are all precious to me!

Wise men lay up truth for a rainy day. That is why I collect quotes from sermons that I hear, sharing noteworthy truths with others to help them. Quotes are a great way of emphasizing helpful truths! Memorizing helpful Scriptures is another way to lay up knowledge. Psalm 119:11, "Thy word have I hid in mine heart, that I might not sin against thee." I memorized Psalm 27:1 this week, "The LORD is my light and my salvation; whom shall I fear? the LORD is the strength of my life; of whom shall I be afraid?" I love that truth: 'THE LORD IS THE STRENGTH OF MY LIFE.' And He sure is the strength of our life dear friend, if you will let Him reign in your life!!!

Here's a perfect example of some great knowledge to lay up:

"A man never finds power with God until his life is submitted to God.

Can't do it! Can't do it! God's power will not rest on a worldly man!"



I love Pastor Danny Castle, he is one of my favorite preachers...

"What we need in this generation, is for about 30,000 churches in the United

States to go out of business, and just shut the doors, and let who mean business, get the power of God, and witness to this generation!"
Pastor Castle wisely says:

"The more you forsake the world, the more pressure's going to be on you. But thank God, there's a blessing in that—The more pressure, the more power! The greater the pressure, the greater the power. The more pressure that's on a man's life, the more God can put His power on him!!!"
SOURCE: Pastor Danny Castle, a quote from the awesome sermon, "How To Have Power With God!" | MP3 Sermon
I love preacher's quotes! I collect them like baseball cards, valuing sermons more than gold. I mean that literally!!! Pastor Castle preached this great truth...
"If God's power ain't on a man, he might as well hang it up! That's all there are to it!"
That's great truth Brother!!! My friend, if you'll stay close to the Book of God and the God of the Book, you'll do just fine! Amen! We are fellow travelers to eternity and I care!

As I speak with people in my daily life, and answer e-mails, I try to think of sermons that I have heard, so I can season my words with grace to edify (build up) OTHERS. I often repeat a great quote (amongst hundreds of quotes) that I once heard from Dr. Jack Hyles:
"UNSHAKABLE FAITH COMES FROM HAVING YOUR FAITH SHAKEN!!!" I love that truth! It has helped me, and others, very much. Now I never would have heard and memorized that truth, unless I had listened to preaching!
The Bible says in Proverb 25:19, "Confidence in an unfaithful man in time of trouble is like a broken tooth, and a foot out of joint." That truth applies to one's personal life as well. If you wait until the roof caves in on your life, and everything is going wrong, before you search the Scriptures and start listening to preaching, it's like a broken tooth and a dislocated foot joint (which are VERY painful). Don't do that to yourself! Please be wise and lay up knowledge for when the storms of life come.
I love listening to preaching almost daily, so I can LAY UP KNOWLEDGE for me, for my family, for my web visitors, for my friends and others who need help. How can I help anybody if I don't lay up knowledge? The Word of God teaches that, WISE MEN LAY UP KNOWLEDGE!!! We live in a foolish society, where nearly everyone wants to watch TV and be entertained all day, laying up NOTHING! Proverb 18:1, "Through desire a man, having separated himself, seeketh and intermeddleth with all wisdom."

Here is a great quote that I read in a book by the fiery fundamentalist preacher, Pastor J. Frank Norris (1877-1952):

"What we need is a school that teaches the whole English Bible. What is needed is a school that will take men from the engine cab, from between the plowshares and teach them the Bible. What is needed is a school that is free from modernism. What is needed is a school that will teach a man how to go out with the Bible under his arms, faith in his heart, and in the power of the Holy Spirit begin in a vacant lot and build a church to the glory of God."




SOURCE: J. Frank Norris, a quote from the excellent book, "The J. FRANK NORRIS I Have Known" (for 34 Years), by Dr. Louis Entzminger.
Here are some truths to burn your heart for God:

Proverb 16:9, "A man's heart deviseth his way: but the LORD directeth his steps."




Psalms 19:7, "The law of the LORD is perfect, converting the soul: the testimony of the LORD is sure, making wise the simple."
"What one generation tolerates, the next generation will embrace!" —John Wesley
"Speaking the truth in love..." —Ephesians 4:15
"This whole society is rotten and Godless. The wrath of God is upon America.
Mark my word: if God's Word be true, this nation is headed
for the dust." —Pastor Tom Malone (1971)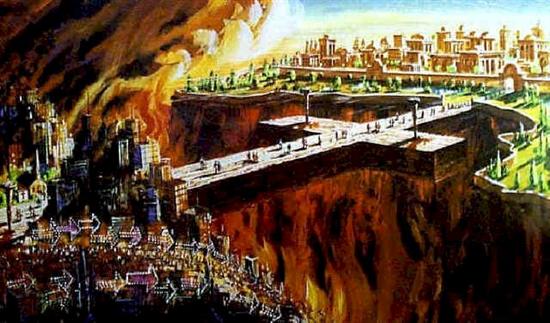 1st Corinthians 1:18, "For the preaching of the cross is to them that
perish foolishness; but unto us which are saved it is the power of God."
Pastor J. Vernon McGee (1904-1988) made this great statement:
"But I do believe we see the setting of a stage today, when action will begin when the Church is removed from this earth. Now the reason the date's not given here is that the Church is dateless, nameless, timeless. You see, we are heavenly people—have no name, but some of you folk thought it was Baptist, and some others of you thought that the name of the Church was Presbyterian, and even some of you thought it was Methodist, and some of you thought it was Independent; but I have news for you, the Church has no name!"




SOURCE: Pastor J. Vernon McGee, 'THRU-THE-BIBLE,'

Hosea 3:4

.
"The Lord gave the word: great was the company
of those that published it." —Psalms 68:11
Don't Spend Too Much Time Listening to Secular Information
Colossians 3:1-3, "If ye then be risen with Christ, seek those things which are above, where Christ sitteth on the right hand of God. Set your affection on things above, not on things on the earth. For ye are dead, and your life is hid with Christ in God."
Do you love knowledge my friend? I really like Mark Dice. He's a great guy from all that I can tell. I believe he is a Christian. But I chose to stop watching his videos regularly (although I still do watch them), because they were waste of my time. Mark's videos are for shallow minds, mostly entertainment, not things that are edifying. The content is not edifying. It's not bad content, it's just not constructive, in my opinion. Politics, Hollywood and the mainstream newsmedia are a cesspool of iniquity these days.

I stopped watching Alex Jones too, although I still subscribe to Infowars. Alex has become so lame, just a sounding voice for President Trump. Alex has completely changed from the freedom fighter he used to be. Alex has sold out to the establishment. Donald Trump is not the answer to America's woes. When all is said and done, the United States will be more closer to the goals set forth by the Luciferian elite when he leaves office. I like Trump, on a personal level, as I do Alex Jones and Mark Dice, but I have been spending my time instead listening to God's men, King James Bible only preachers!!!

My website articles receive about 500 hits each within a week of publishing them, but Mark Dice's entertainment videos receive upwards of a million views a piece. People's minds are so shallow. Mark is making money on YouTube, so he gives simple minds what they want, entertainment. I'm not interested in making money from my ministry, not now, not ever. My reward is in Heaven (Matthew 6:19-20).
I'm not being critical of Mark Dice or Alex Jones in this article, I'm just saying that I think it's a big waste of my time to listen to them at length. One of the saddest commentaries of our generation is the lack of interest in Bible preaching. While the kooks, quacks and queers of the entertainment industry walk as gods among Americans, Bible preachers are ridiculed, shunned and hated as hate-mongers. THE TRUTH is considered hate to those who hate THE TRUTH!!!

We are living in the age of information. Literally, many people have turned informed into a god.


I Am Crucified With Christ, Yet I Live; Yet Not I, But Jesus Liveth in Me
Galatians 2:20, "I am crucified with Christ: nevertheless I live; yet not I, but Christ liveth in me: and the life which I now live in the flesh I live by the faith of the Son of God, who loved me, and gave himself for me."
We are saved by TRUSTING Jesus, by receiving His sacrifice on the cross as payment for our sins, believing that He was buried and then bodily resurrected from the dead three days later. This is "THE GOSPEL." That's all that God requires to be saved. Then, the first thing God wants us to do as a new believer is to be CRUCIFIED with Christ, by presenting our body as a living sacrifice to live for the Lord (Romans 12:1). The latter is DISCIPLESHIP, the former is SALVATION. Dr. Jack Hyles teaches this wonderful truth in his timeless MP3 sermon titled, "Steps To Sanctification; Or, The Root Of All Heresy!" I hope you'll listen to it, as I know it will bless your soul. This is a truth that needs to be laid up in your heart, as it has been in mind for many years now. Praise God for THE TRUTH!!!

I love the preceding and the following passages of Scripture:

Colossians 3:1-3, "If ye then be risen with Christ, seek those things which are above, where Christ sitteth on the right hand of God. Set your affection on things above, not on things on the earth. For ye are dead, and your life is hid with Christ in God."
Let's break down Colossians 3:1-3 to see what we can learn here shall we:
JESUS CHRIST IS RISEN; THEREFORE,

WE ARE TO SEEK HEAVENLY THINGS, WHERE CHRIST SITS ON THE FATHER'S RIGHT HAND.

WE ARE TO SET OUR AFFECTION (THINK ABOUT) HEAVENLY THINGS, NOT EARTHLY THINGS.

WE ARE DEAD IN CHRIST, AND JESUS IS OUR NEW LIFE.
Very few Christians live this Scripture. This is the key to the believer's happiness. No Christian who walks in the flesh can ever truly be happy. What type of heavenly things should we think about? Let's make a list shall we:

SOUL-WINNING (Luke 15:10; 1st Peter 1:12)

SECOND COMING OF JESUS CHRIST (Philippians 3:20; Titus 2:13)
LAY ASIDE DISTRACTIONS AND SIN, AND RUN THE RACE THAT IS SET BEFORE US (Hebrews 12:1)
LAY UP TREASURES IN HEAVEN BY LABOURING FOR CHRIST (Matthew 6:19-20; 1st Corinthians 3:7-15)
CARING FOR AND PREACHING THE GOSPEL TO THE POOR (Matthew 5:3)

THE KING JAMES BIBLE (Psalm 119:89)

LOVING AND FORGIVING EVERYONE WITH GOD'S UNCONDITIONAL LOVE (Matthew 6:14-15)
I've just listed but a few, but the entire Holy Bible ought to be our thoughts. I don't know about you, but I want to saturate my thinking and life with the things of God. The only way for a Christian to be happy in Jesus is to TRUST AND OBEY.

A Christian loves righteousness. Even though we are sinners who struggle with the desires of the flesh, we desire in our spirit to do right (Romans 7:14-25). I love God's promise of a new Heaven and earth, where righteousness will abound:

2nd Peter 3:13, "Nevertheless we, according to his promise, look for new heavens and a new earth, wherein dwelleth righteousness."
Wicked men refuse to listen to the preacher of righteousness, but they cannot escape their Creator in Heaven:

Hebrews 12:25-26, "See that ye refuse not him that speaketh. For if they escaped not who refused him that spake on earth, much more shall not we escape, if we turn away from him that speaketh from heaven: Whose voice then shook the earth: but now he hath promised, saying, Yet once more I shake not the earth only, but also heaven."
We all make our choices in life. Some men fear and obey God, who will enter into everlasting peace and blessing. But most men do not fear nor obey God, and will be cast into the Lake of Fire for their unbelief. We do not go to Heaven because of what we do, but because of where we are looking... LOOK TO JESUS! Isaiah 45:22, "Look unto me, and be ye saved, all the ends of the earth: for I am God, and there is none else." Men have always been saved by trusting upon the Lord. Acts 10:43, "To him give all the prophets witness, that through his name whosoever believeth in him shall receive remission of sins." As you just read, this was the witness of ALL THE PROPHETS!!! People in the Old Testament were saved the SAME WAY we are today, which is by faith. We read in Genesis 15:6, "And he believed in the LORD; and he counted it to him for righteousness" (See also Romans 4:3-6).


Bible Preaching Helps Us to Think Right
Psalms 119:9, "Wherewithal shall a young man cleanse his way? by taking heed thereto according to thy word."
American politics are a major waste of time and resources. The entire Republican and Democratic political system is Luciferian controlled at the top, as corrupt to the core as can be. God controls the government, the government does not control God. Daniel 2:21, "And he changeth the times and the seasons: he removeth kings, and setteth up kings: he giveth wisdom unto the wise, and knowledge to them that know understanding." God has given to Americans the corrupt leaders that we deserve. Psalms 18:25-26, "With the merciful thou wilt shew thyself merciful; with an upright man thou wilt shew thyself upright; With the pure thou wilt shew thyself pure; and with the froward thou wilt shew thyself froward." With the crooked (froward) God dealeth crookedly. The United States is a crooked and perverse nation, and God has justly dealt with us as such.

Thank God for the small handful of fundamentalist Christians who have not bowed their knee to Baal. Philippians 2:15, "That ye may be blameless and harmless, the sons of God, without rebuke, in the midst of a crooked and perverse nation, among whom ye shine as lights in the world." Men of all ages can still have a pure mind and live right in 2017!!! Psalms 119:9, "Wherewithal shall a young man cleanse his way? by taking heed thereto according to thy word." If you want to live right, saturate your life with the King James Bible!!!!!!!

You and I need solid Bible preaching!!! I mean Pastor Danny Castle. I mean Dr. Jack Hyles. I mean Pastor Steven Anderson. I mean Pastor Max Younce. Bible preaching helps us to think straight. Proverbs 4:23, "Keep thy heart with all diligence; for out of it are the issues of life." We all need Bible preaching. We all need to spend time reading, meditating and studying God's Word in the inspired King James Bible. I encourage you, whoever you may be, to spend much more time listening to the King James Bible.
I like listening to Alexander Scourby. I encourage you to listen to lots of Bible preaching. Don't waste your time listening to spiritual casualties, wolves in sheep's clothing, like Joel Osteen, Rick Warren and John MacArthur. I wouldn't give you a plum nickel for a preacher who tries not to offend people. I'm talking about shameful ministers like Ravi Zacharias, who is infamous for always taking the easy way out, delivery vague speeches, kowtowing with Gospel rejecting Mormons, and who has sinfully received honors from the Roman Catholic Church.


Godly Believers Desire to Lay Up Sound Knowledge to Help Others
Proverb 25:11, "A word fitly spoken is like apples of gold in pictures of silver."
A selfish believer doesn't care about others. We are living in "perilous times," as foretold in the Holy Scriptures. 2nd Timothy 3:1-2, "This know also, that in the last days perilous times shall come. For men shall be lovers of their own selves..." I feel sorry for selfish people, and that includes selfish believers. We all tend to be selfish by nature. The Christian life is a supernatural life. This is true because the blessed Holy Spirit is a supernatural Being, Who indwells every born-again believer (1st Corinthians 3:16-17). Most professed Christians are selfish, self-conscience and self-centered. Self has no place in the Christian life. Notice that the center letter of the words "sin" and "pride" is the letter "i." Self always gets us into trouble. Most believers have "i" trouble.

The Word of God teaches us to become as a fool to become wise. This is an amazing truth. 1st Corinthians 3:18, "Let no man deceive himself. If any man among you seemeth to be wise in this world, let him become a fool, that he may be wise." Think about what God is saying. The path to wisdom is to become a fool!!! What does that mean? How does one become a fool? The Scriptures teach that to the unsaved person, the Gospel is foolishness. 1st Corinthians 1:21, "For after that in the wisdom of God the world by wisdom knew not God, it pleased God by the foolishness of preaching to save them that believe." The heathen world thinks they are wise, but they are fools in God's sight.

The wisdom of the world goes totally contrary to the wisdom of man. Romans 1:22, "Professing themselves to be wise, they became fools." 1st Corinthians 4:10, "We are fools for Christ's sake, but ye are wise in Christ; we are weak, but ye are strong; ye are honourable, but we are despised." What does this passage mean? It means preachers are hated by the world for telling the truth, but in Heaven's view Christians are wise. The evangelist is despised for stepping on sinner's toes. So we are talking about different perspectives here. From the world's view, those who preach the Gospel are despised as being fools.
But in reality, a righteous man is wise for trusting upon the Lord. The choice to have wisdom is an individual choice. Most people are simple, having neither wisdom nor wanting to be a fool. But effectively, the simple are gullible, just as the fool, because they lack wisdom. You get wisdom from the Word of God, from the Lord. Proverb 9:10, "The fear of the LORD is the beginning of wisdom: and the knowledge of the holy is understanding." I fear God. I must give account to God one day for every word that comes out of my mouth (Matthew 13:26). And also, I must give account for every word that I type and upload to the internet. And so must you!

Are you wise? Do you fear God? Do you hate evil? Do you want to lay up knowledge beforehand, so that you will have it when you really need it? You won't always have godly counsel available when you need it. And if you lack wisdom, someone may give you some really bad advice. Behind every pulpit is a human being! You need God's wisdom for yourself, or else you'll be blown about by every wind of doctrine. We are living in a world of fools!!! Please get into the King James Bible.
I am listening to Alexander Scourby read the King James Bible (Revelation, Colossians, Philippians, Galatians and Ephesians) as I type this article. I need wisdom. I just heard a beautiful Scriptures from Galatians 3:8, "And the scripture, foreseeing that God would justify the heathen through faith, preached before the gospel unto Abraham, saying, In thee shall all nations be blessed." Isn't that beautiful? God JUSTIFIES THE HEATHEN... THROUGH FAITH!!! SO much for Lordship Salvation (which is a false gospel). We are saved by BELIEVING, not by repenting.

Repentance is always "toward God," never from sin, to be saved. That is exactly what Acts 20:21 teaches. Acts 20:21, "Testifying both to the Jews, and also to the Greeks, repentance toward God, and faith toward our Lord Jesus Christ." Anyone who teaches that you must repent by turning away from your sins to be saved is a false prophet. You get saved by turning toward Jesus Christ in faith to be saved. Obviously you need to turn "FROM" something in order to turn "TO" the Gospel. But that something you turn FROM is not what saves you, nor is it a requirement to be saved, as many false prophets claim these days. If you place your faith in Christ's sacrifice on the cross, as payment for your sins, believing that Jesus was buried and bodily raised up three days later, you are immediately, permanently and forever saved!!!
The man who believes has also repented! This is why we find the words "believe" and "believed" mentioned 85 times in the Gospel of John (which was written to convince men to be saved - Acts 20:31), but the word "repent" is never mentioned even once! John 20:31, "But these are written, that ye might believe that Jesus is the Christ, the Son of God; and that believing ye might have life through his name." That's really good stuff, I hope you got all that. I learned these things from LAYING UP KNOWLEDGE, by searching the Scriptures and listening to much Bible-preaching.

I love to listen to music as much as anybody, and I do listen to music. But the average American has been listening to the same music—day after day, week after week, month after month, year after year, decade after decade—the same songs TENS OF THOUSANDS OF TIMES!!! I'm not kidding, you know it's truth. We all have heard the same songs so many times. A shocking study shows that the average person listens accumulatively to 13 years of music during their lifetime! Goodnight in the morning!!! Think about that... 13 YEARS!!!
Is it any wonder why people's lives are so messed up? Is it any wonder why Americans are so gullible, dumbed-down, woefully ignorant and lacking common sense? I think not! My friend, turn off the radio sometimes! Turn off the television sometimes! If you haven't been laying up knowledge, I HIGHLY recommend that you turn off everything for the next 3 months, and spend as much time as possible wallowing in the Word of God. Listen to lots of Bible-preaching by fundamentalist preachers! Get you some doctrinally sound books from the Sword Of The Lord or Larry Harrison's classic Christian book gallery.
I am listening to a wonderful life-changing sermon right now by Pastor Jack Hyles called: "A Great Secret To Health." The secret to good health is threefold:
a bitter bitterness

a loving love

a forgiving forgiveness
In order to be healthy we have to first have some bitterness. God knows that stumbling blocks can become steppingstones by faith. A young Dwight L. Moody (1837-1899) couldn't even pass the test for church membership. The famous preacher, George W. Truett (1867-1944), accidentally killed his friend with a gun in a hunting trip. Evangelist Bill Rice's daughter became deaf as a baby, which compelled him and his wife to start the Bill Rice Ranch (where I attended for two years in a row as a teenager, which changed my life for Christ. I still clearly remember learning this new song at the Bill Rice Ranch in the early 1980's. I played the song's melody on my pedal steel guitar, so you can hear what it sounds like...
Teenager are you lonely, do you need a Friend?
Take Jesus as your Savior, He will lead you to the end;
He'll be your guide, stand by your side,
Teenager, take Jesus Today!
Cast thy bread upon the waters the Bible says, and it shall return unto you! Ecclesiastes 11:1, "Cast thy bread upon the waters: for thou shalt find it after many days."
Satan BLINDS the mind of a lost person, to prevent them from seeing the clarity and simplicity of "THE GOSPEL." It is our job as God's children to take the Gospel to the lost, and explain the simplicity of God's plan of salvation with them. It is so easy, free and simple to get to Heaven.
We are all guilty sinners (Romans 3:23). We have all broken God's commandments (Romans 3:10-23).
There is a penalty for our sin, which is to spend eternity being punished in the fires and torments of Hell (Romans 6:23; Revelation 21:8).
But God in his wondrous love made a way of escape. God sent His only begotten Son, Jesus, into the world to die for our sins on the cross (Romans 5:8). Jesus paid a debt that He didn't owe, because we owed a debt that we couldn't pay (2nd Corinthians 5:21). Jesus died in our place on the cross. He was buried. Three days later Christ bodily ressurected from the dead. This is the Gospel (the Good news) by which anyone can be saved, if we simply BELIEVE it (Romans 1:16; 1st Corinthians 15:1-4). Acts 16:30-31, "And brought them out, and said, Sirs, what must I do to be saved? And they said, Believe on the Lord Jesus Christ, and thou shalt be saved, and thy house."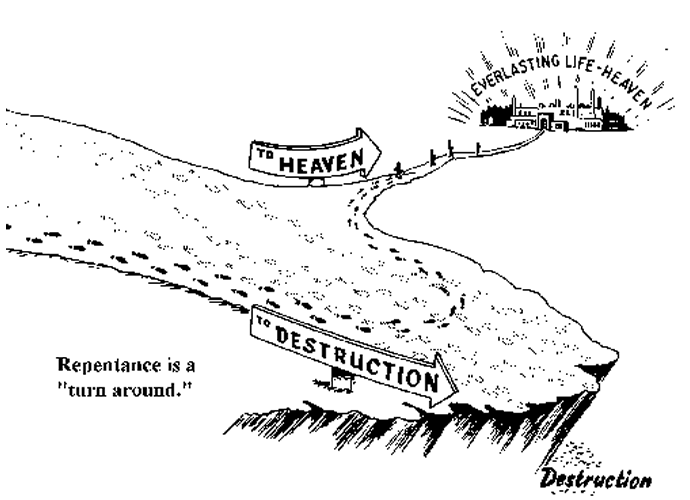 (You can be saved now, eternally and KNOW IT!)